Nubians
---
click on pictures for full pedigree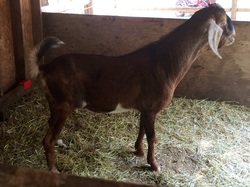 My Enchanted Acres LGN of Boom
*G6S Normal by parentage

Sire's Sire: +*B Alize Kharm Personified
Sire: Lassenwood A Kharm Player
Sire's Dam: CH Lassenwood Niko Placidia

Dam's Sire: +*B SG Lassenwood Zhivago Zen (2007 ADGA National Premier Sire)
Dam: SGCH My Enchanted Acres LZZ Journey 7*M
Dam's Dam: SGCH My Enchanted Acres #1 Arianna 6*M

Boom came to us with beautiful Northwest genetics. His Dam, Journey is a 7* milker and appraised 91 EEVE, she placed 1st with 1st udder Reserve Champion at the Clark County Fair along with a 1st and 1st udder at the SWW fair in 2015 as a 4 year old and she is a daughter of the 2007 National Premier Sire. On his sire's side, Boom is a grandson to SGCH J&R Spirit's DK Covergirl who was reserve grand champion and best udder in the 2009 ADGA National Show as well as a great grandson to ++B Lassenwood Miller Ozzie. Both sides of his pedigree are littered with milk stars, championships and superior genetics designations. Boom is very correct and his kids have had excellent growth this year. I've also been very pleased with Boom's apparent parasite resistance.


---

---
---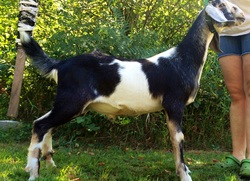 Pella's Triple C BigBangTheory
*G6S Normal by parentage
Sire's Sire: +*B Kastdemur's King of the Hill (2008 ADGA National Premier Nubian Sire & 2010 Elite Sire)
Sire: Kastdemur's Score 'Em Big
Sire's Dam: Kastdemur's SexInTheCity

Dam: Sire: +*B Wingwood Farm Romeo's Laredo EX 92
Dam: CH Pella's Triple C Peach Swirl
Dam's Dam: GCH *3M Lakeshore-Farms Just Peachy 91 EEEE


Theory's Dam, Peach Swirl was 20th place milking yearling, and was part of 4th place Senior get of Sire for Wingwood Farm Romeo's Laredo at the 2009 ADGA National Show, she is reportedly a huge doe weighing in well over 220lbs. Theory's grandame SexInTheCity was the 1st place Senior kid at the 2009 Nationals and is a full sister to Kastemur's Temerity who was the 2008 ADGA National Champion and Best Udder and the 2009 ADGA National Champion. We are expecting Theory to add size, depth, scale and width and are hoping to see Swirl's beautiful udder in his daughters.
---
---
Nigerian Dwarfs
---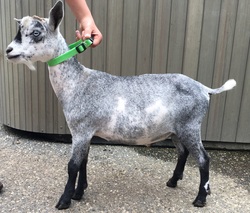 Erebor Acres BilboBaggins
*Blue Eyes

Sire's Sire: Rosasharn Up Bit-A-Mischief
Sire: Honey Goat Easter Jackpot
Sire's Dam: Honey Goat Domingo


Dam's Sire: Rosasharn GM Paradoxos
Dam: Poppy Patch PD Gidget
Dam's Sire: Poppy Patch HB Sally Swing
---